Hong Kong (June/July & August/September 2010)
---
Hong Kong Travel Diary (June 20th to July 10th, 2010) - Joanne & Lee
Multiple unexpected trip to Hong Kong with work that we were able to extend with a few days vacation. While we traveled on Air Canada 255 (Edmonton to Vancouver) and Air Canada 17 (Vancouver to Hong Kong), Lee left Edmonton on the evening of June 20th and returned on July 10th while Joanne left on the June 24th and returned July 6th.
Additionally, Lee had to go back for work from August 13th to September 2nd, and Joanne would be away with work for most of the time (Victoria, Vancouver & Regina).
Day 1-2 (Sunday, June 20th to Tuesday, June 22nd) - Lee - Edmonton to Hong Kong (via Vancouver)
Long (about 20 hours) uneventful flight via Air Canada to Hong Kong, with a 5+ hour wait in Vancouver, as the last flight from Edmonton leaved at 8:30pm while the Hong Kong flight was supposed to leave at 2am but was delayed until almost 3 due to luggage issues. On the plus side though I did get an upgrade to first class (hopefully Joanne will be as lucky on Thursday)
Day 3 (Tuesday, June 22nd) - Getting Adjusted to Hong Kong
Arrived in Hong Kong early Tuesday morning (6:30am) and picked up a Hong Kong MTR Airport Expresss highspeed train to the Hong Kong Station. Took about 40 minutes to get to the JW Marriott Hotel, a very nice business oriented hotel in the city centre.

Since most of the rest of the team I'd be working with were not getting in until mid-afternoon, I took to opportunity to:

get a couple of extra hours sleep (as tried to stay awake as long as possible at the start of the trip, to start adjusting to the time change)
get a 'pay as you go' SIM card for our GSM cellular phone from PCCW Mobile (so we'd have a local Hong Kong #, no roaming charges from our Canadian carrier)
get an Octopus Card, for prepaid access to the transit system (metro, trains, trams, buses, boats)
took the metro out to the IBM office, to get the route down

The rest of the team was staying at the Sheraton in Kowloon, so at 4pm we are to meet for some happy hour drinks and dinner.
Day 4-6 (Wednesday, June 23rd to Friday, June 25th) - Working days for Lee & Travel for Joanne
Nothing dramatic, Wednesday noon, Lee's team meet at the office for a mid-day start, with full day sessions on Thursday & Friday. Thursday night/Friday were travel days for Joanne.
Day 7 (Saturday, June 26th) - Joanne Arrives & Light Tourist Day
Joanne to arrive early morning, while not upgraded she did arrive well rested. Was raining fairly heavily so we started out with some basic activities at Hong Kong Park near the hotel (an aviary, conservatory) and the Museum of Tea Ware, at Flagstaff House, which provided an interesting history of tea & culture

But it eventually got so wet that we moved on to the Hong Kong Museum of Art which had some fasinating collections.
Day 8 (Sunday, June 27th) - Weekend Hong Kong Tourist Day
Was raining heavily so we headed off to Kowloon Space Museum which provided some interesting insight to China's history with astronomy. The rain was starting to let up so we then headed off to History Museum which was extremely informative on ancient & recent history of both Hong Kong and this area of China. That took most of the day and then we stopped at a resturant in Kowloon for dinner, it was very good with Joanne commenting that she had 'real' chinese food
Day 9-11 (Monday, June 28th to Wednesday, June 30th) - Working days
Full day sessions for both Joanne and Lee, just Joanne was working "Toronto time" so had a chance to explore.

tram to Victoria Peak ("The Peak") and walking down
the Central Market and shopping

On Tuesday night, Nissa Marion hosted an event for Rob Stewart & his film Sharkwater at the W Hotel in Kowloon and we were all invited (& a late dinner at the 'Thai Basil' resturant at Pacific Place, attached to our hotel). While on Wednesday night we were all at The China Club followed up by the semi-traditional Canada Day ("Canada D-eh") ceremony in the Lan Kwai Fong area (there were 20,000 there to sing 'Oh Canada' at midnight).
Day 12 (Thursday, July 1st) - Stanley Market
We'd initially thought Thursday would be a working day for Lee but July 1st is HKSAR Day (Hong Kong was handed over to China on July 1st, 1997) and a holiday. It was already a holiday for Joanne (Canada Day), so we went off the Stanley, visiting the Stanley Military Cemetary (especially since it was Canada Day), a walk along St Stephen's Beach (lots of BBQs going on), the Stanley Market (picked up a few souvenirs) , a walk around the warf, dinner at an outdoor cafe (with a parade going by) and listening to all of the local politicians do their HKSAR Day speeches.
Day 13 (Friday, July 2nd) - Semi-Working days for Lee, Tourist/Shopping days for Joanne
Was supposed to be a full workday for Lee, but no one was around so at ~11am called Joanne (we both had local cellular phones as the prepaid service is extremely inexpensive) and we met up at noon (because Joanne was working on Canadian initatives she was able to take advantage of our Canada Day 'floating holiday'. Joanne was at Causeway Bay so we tried to get to the 'Noonday Gun' but ran a bit late so watched from the other side of the street (Lee got to it on the 10th with video below), then some shopping at Causeway Bay, over to Kowloon for the Flower Market, Ladies Market & Bird Market in Mong Kok, the tram back up to "The Peak" for dinner, "Symphony of Lights" (a spectacular light show of Hong Kong's most famous skyscrapers, which start daily at 8pm) and finally walking down the Old Peak Road back to the hotel.
Day 14 (Sunday, July 3rd) - Lantau Island
An action packed day on Lantau Island with

explored the Po Lin Monistary (Ngong Ping) and walked some of the area trails, getting some great views of the Big Buddha and finally stopping for tea at what initially looked liike a rundown 'Tea House' but the grew their own tea (we bought some to take home) & had fabolous homemade spring rolls (some were even triangular rather than the traditional 'roll')
bus to Tai O, the fishing village on stilts over the water - its much more built up than when I was there in 2002 with a huge warf, a bus depot, condos being built, but they also had a museum (which we went through) & we explored the town before stopping for dinner (at the same place I ate in 2002, I think)
bus to the Tung Chung Town Centre, which now goes on the new highway (opened in 2005) which only takes 40 min (over an hour in 2002) & is a much smoother ride along the coast (but lost a bit of the character of the slow ride through the hills). The Tung Chung Town Centre is now more of a 'factory outlet' mall and after exploring for a bit we took the train back to hotel
Day 15 (Sunday, July 4th) - Naval Museum
Saturday had been action filled so slept in. After breakfast we caught the tram to the eastern end (Shau Kei Wan) and walked over to the Hong Kong Museum of Costal Defence, the 'Naval Museum' was a hidden gem as it had a significant amount of naval history as well as recent military history. It was extremely hot (heat warnings) but we still ventured off to Kowloon for dinner at The Spicy Crab.
Day 16 (Monday, July 5th) - Shenzhen
Extreme tourist day - train to Shenzhen (a special economic zone in mainland China). After some confusion in getting our visas it was off to the world biggest (& most hectic) mall. We explored it a bit but then went off looking for the 'art mall' that we knew was nearby. Then an interesting lunch (the staff was amazed to see us, that we knew how to use chopsticks, we liked the food), some more exploring (expecially the market area). We'd also wanted to find the 'Minsk' (Russian aircraft carrier in Shenzhen) but decided we'd seen enough so took the train back to Hong Kong & off to Kowloon, the Temple Street Night Market & dinner at The Aberdeen Seafood Resturant.
Day 17 (Tuesday, July 6th) - The Peak
Final Tourist day - where we took the tram back to The Peak, walked several trails to get us down to the Pok Fu Lam Reservoir back to The Peak for lunch and down the Chatham Path (& various others) back to the hotel. The to Kowloon and a final dinner for Joanne at The Aberdeen Seafood Resturant.
Day 18 (Wednesday, July 7tth) - Final Tourist Day, Joanne back to Edmonton
Final tourist day, as Joanne going home but Lee needs to stay until Friday with work. Since we used the Airport Express for our airport transit, Joanne checked in for her flight home at the downtown air terminal, dropped off her luggage and when getting her boarding passes received a business class upgrade.

To finish off the tourist activities, we went back to the Avaiary at Hong Kong Park to get a final look at the birds.

By 1:30pm Joanne was off to the airport and an 18 hour flight back to Canada, while Lee wnt back to work and was in the office by 2:30.
Day 19-20 (Thursday, July 8rd to Friday, July 9th) - Working days for Lee
Nothing dramatic, with full day sessions on Thursday & Friday, and dinner at the outdoor "Spicy Crab" at the Temple Street Night Market. Thursday was the Vegetable-Seefood Hotpot & Friday was the Curry-Seafood, amung the best dinners of the trip unfortunately wthout Joanne.
Day 21 (Saturday, July 10th) - Lee back to Edmonton
Lee's turn to use the Airport Express in-town checkin but unfortunately no upgrade. And for the final tourist event, took the tram to Causeway Bay, walked through Victoria Park and finally took in the "Noonday Gun".

A final loop by the hotel to checkout, off to the airport, an uneventful flight home where Joanne was waiting at the airport.
Hong Kong Travel Diary (August 13th to September 2nd, 2010) - just Lee
Day 1-3 (Friday, August 13th to Sunday, August 15th) - Lee - Edmonton to Hong Kong (via Vancouver)
Very unexpected request came in about 11pm Thursday to get to Hong Kong ASAP so in under 24 hours it was the same flights as June, uneventful (actually 45 min early) and fortunately upgraded, Airport Express Hong Kong Station and to JW Marriott). Because I arrived so early my room wasn't ready (would take about 3 hours), as I'd requested the same room (3218) that Joanne and I had last month. So went over to Hong Kong Park to relax by the pond, caught up on e-mail (Hong Kong had great WiFi) and got some groceries. Once checked in and cleaned up, then was off to Causeway Bay but an early evening.
Day 4-8 (Monday, August 16th to Friday, August 20th) - Work days ...
Nothing dramatic, with full day sessions Monday to Friday. But some interesting dining with the team -

Yun Fu with John Marion & his daughter
Aberdeen Seafood Resturant with John (& eventually a bar tab that was 3x dinner followed up with a 2 hour work call)
Spring Deer (with the whole team)
Day 9-10 (Saturday, August 21st to Sunday, August 22nd) - Tourist Day
Saturday was a hike up/down Victoria Peak via the Mid-Level escalators and the Old Peak Road up (I did get sidetracked on the way up, initially going up Robinson Road, but eventually got on the right track(and the Chatam Path down. The walk to the peak is not that exciting, only ~10 min of steep walking & an undramatic arrival at an air conditioned mall at the top. On the way down made a side trip to the Sun Yat-sen Museum, Joanne had visited it on our previous trip and recommended it.

Sunday was out to Stanley and the Market which for the most part was uneventful (& somewhat disappointing Maritime Museum at Murray House, especially after the the Naval Museum) until the boat fire in the harbour ... was just off St Stephen's beach & I'd been there ~90min earlier
Day 11-15 (Monday, August 22nd to Friday, August 27th) - Work days ...
Nothing dramatic, with full day sessions Monday to Friday and not even any interesting meals.
Day 16-17 (Saturday, August 28th to Sunday, August 29th) - Tourist Day
Saturday was Lamma Island (PDF Guide) with several interesting trail and great seafood (I'll eventually put in more was was an interesting day).

caught the 10:10 ferry for the 25 min ride to Yung Shue Wan, at the north end of Lamma Island, and walked the trails to Pak Kok, Pak Kap Hang and eventually back to Yung Shue Wan ... it was about noon so grabbed a snack (bag of fresh peanuts & a can of beer, both were refreshing)
took the trail from Yung Shue Wan to Sok Kwu Wan, looping by the Lamma Wind (a wind turbine, the first in Hong Kong, with education on renewable energy and real time data on the use), Hung Sing Ye Bay (one of the most popular beaches in Hong Kong & I got a BBQ sausage on a stick from one of the vendors), looping up into the hills for great views of the South China Sea (as well as the Lamma Power Station, coal powered & supplies much of the electricity to Hong Kong Island) and decending down into Sok Kwu Wan (by some mudflats with a great sitting area & some Kamikaze Caves from WW II)
into Sok Kwu Wan for a quick tour of the town and another snack (ice cream & a beer)
took the trail up to Ling Kok Shan where there is a new communications tower (250m climb but all on new stairs, likely due to the tower, as no roads on Lamma Island, and great 360° view of Lamma Island, the South China Sea and Hong Kong), I only ran into 1 on the trail & that was just outside of Sok Kwu Wan but given the amazing views everyone should take this trail. After decending down from Ling Kok Shan it was some great beaches, a series of 'fish farms' and back into Sok Kwu Wan ... I could have rushed & caught the 5:35 boat back but took a more leasurely pace to have dinner before catching the 7:35
dinner was at The Lamma Mandarin Seafood Resturant, right on the water, awesome food & view ... with a bit of excitement, as another yacht came in on fire (the insurance agents will be happy to see me leave) but missed the water cannons this time as still anted to catch the 7:35 ferry back to Central (25 min & were able to see part of the Symphony of Lights lighting up the skyline of Hong Kong)

Sunday was was a hike up/down Victoria Peak via the Mid-Level escalators and the Old Peak Road up, then the loop around the Pok Fu Lam Reservoir before returning to The Peak for a snack before taking the Chatam Path down. I'd picked up a 'camel back' type pack last weekend at the Stanley Market (High Sierra Soaker 70) that holds 2l of water (plus cameras, guides, etc) which made the hikes on Lamma Island & The Peak much easier than carrying water (I was surprised how little water I actually consumed & how well hydrated I was when just taking a few sips every couple of minutes vs big gulps every half hour)
Day 18-20 (Monday, August 29th to Wednesday, September 1st) - Work days ...
Nothing dramatic, with full day sessions Monday to Wednesday.
Day 21 (Thursday, September 2nd) - Workday and back to Edmonton
Stop by the Airport Express in-town checkin to drop-off luggage and get boarding passes (& upgrades). Then off to the office for a few hours before catching a mid-afternoon train, for another uneventful flight home.
To view some of our pictures from Hong Kong, via Flickr -->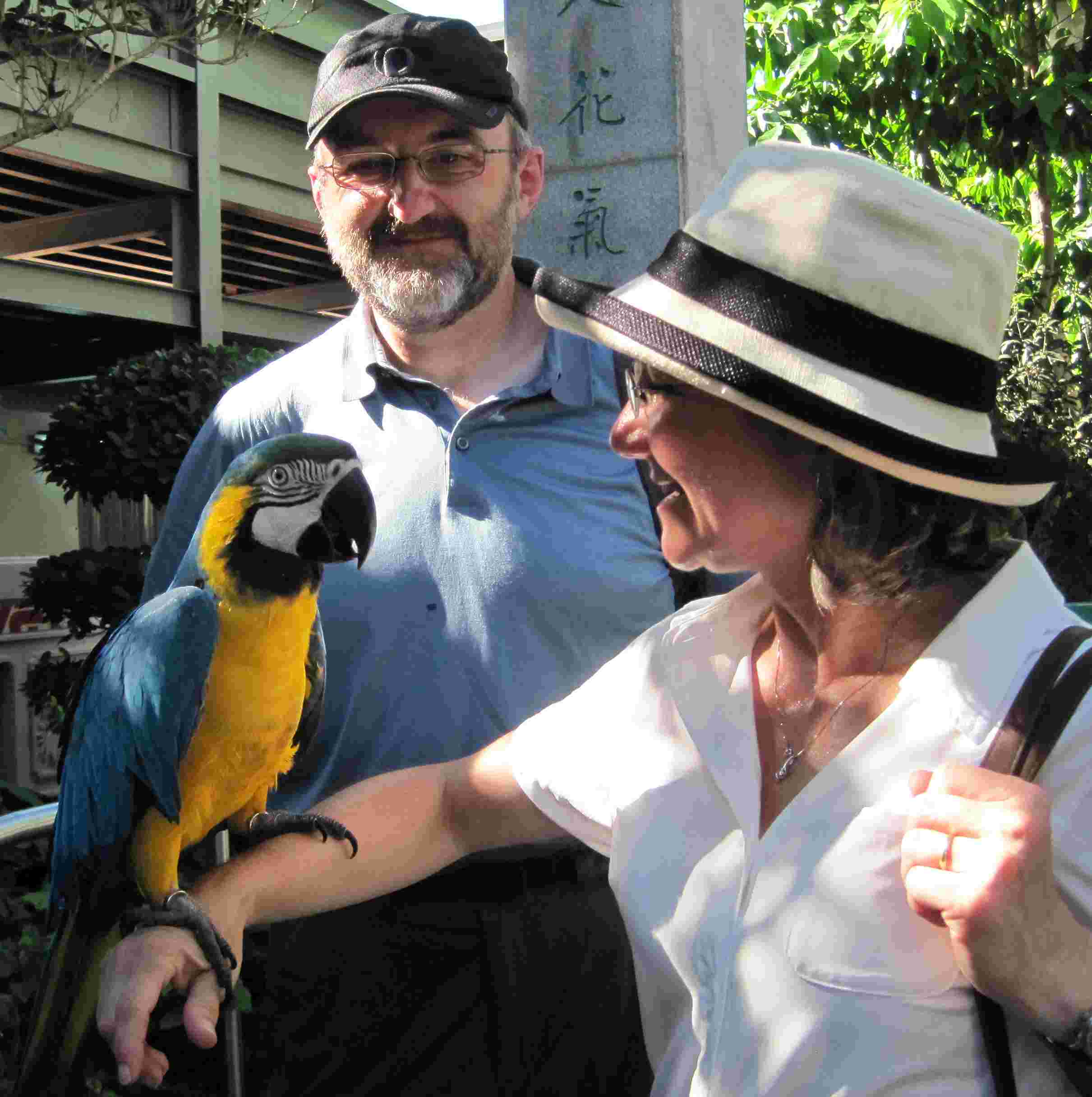 (June/July, almost all from Joanne so very good) and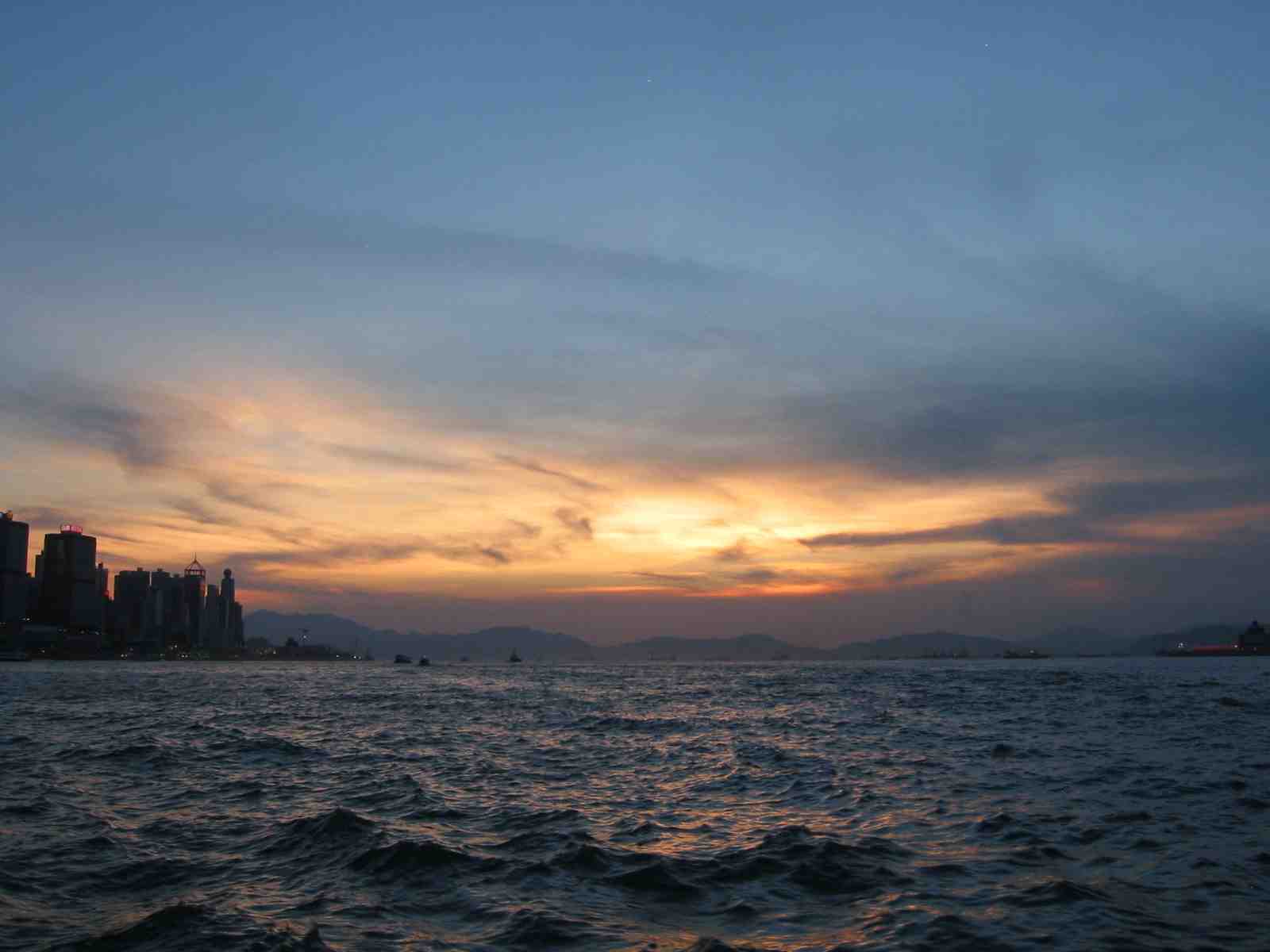 (August, all from Lee so spotty)

For more information e-mail us at : joanneandlee@shaw.ca

Last Updated 29 August 2010