Background
Our 2009 vacation focused on a 10 day walk in Provençe, with 5 days in Barcelona and 6 days in Paris wrapped around the walk. While it took 2+ years to plan for the Offa's Dyke walk in 2008, this one came together fairly quickly as we were had been directed to Inntravel from one of the walkers we met in Wales. The walk was to be Inntravel's Walking Hilltop Villages of the Luberon - The Long Trail which is described as a 106 km walk that "covers the very heart of Provençe, where the Côtes du Luberon vineyards thrive in the warmth, their light wines the ideal accompaniment to the delicious regional cuisine flavoured with rosemary and thyme" - exactly what we were looking for.
Barcelona
A few of our pictures, via Flickr -->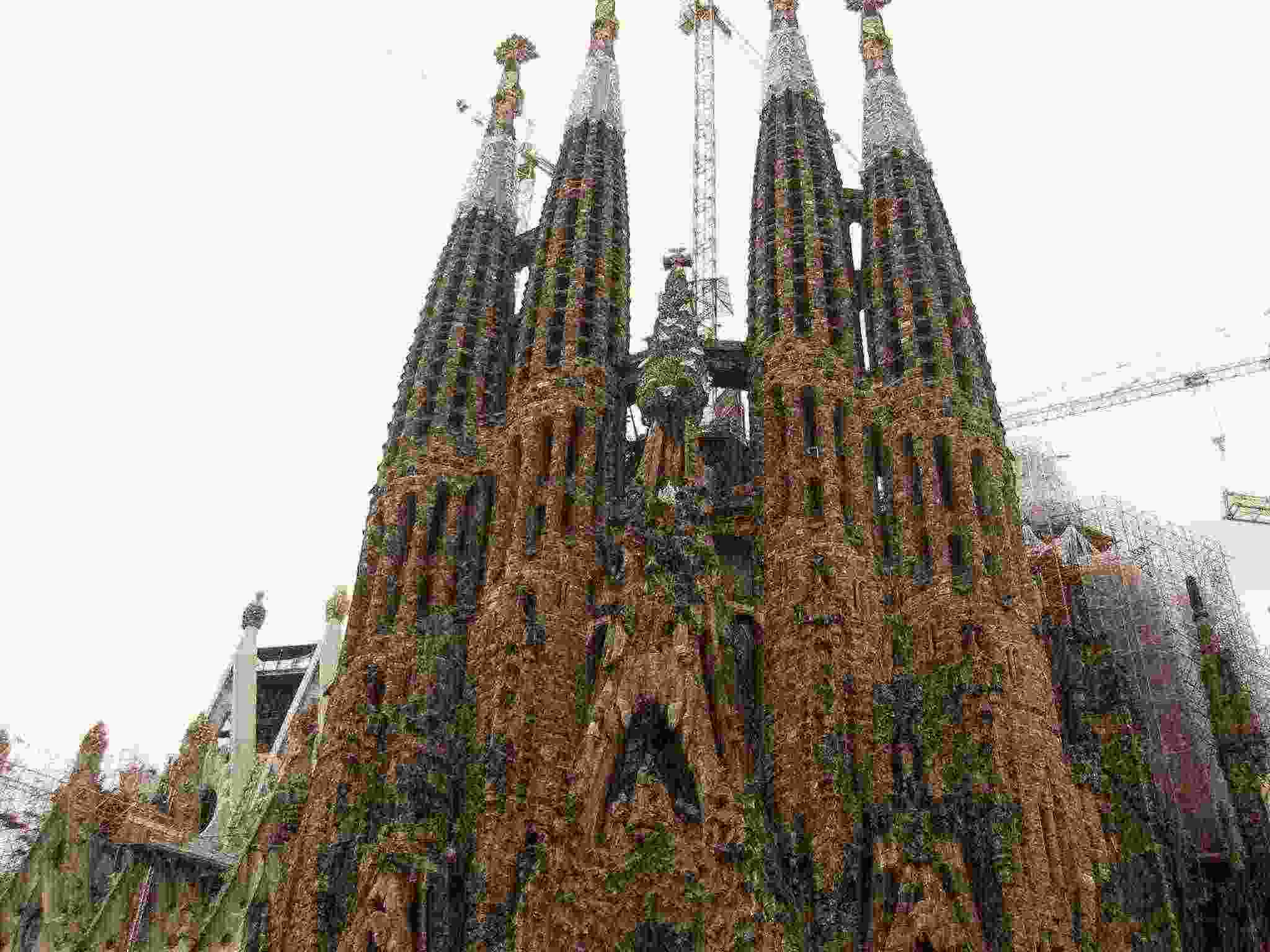 12 September 2009 - Travel Edmonton to Barcelona
We awoke ahead of the alarm well rested. This gave us extra time to do last minute things, for example, hauling up more food from the deep freezer to the kitchen freezer and writing a list of everything Emily could make from the freezer or fridge so that she doesn't have to think too hard when she comes home from school famished (2 x Lasagna, 2 x Shepherd's Pies, 2 x Minestrone, etc.).

Our cab driver to the airport was interested to know where we were going. A Pole, he was bored with Europe and now travels to Asia. He has the ticket in his pocket to go to Thailand for 3 months this winter. We wondered afterwards how it is that cab drivers are so well travelled? Our driver, when we left for Wales last year, was also from Eastern Europe and he was having a house built in Laos to live there half the year. We guessed that cab driving must be fairly lucrative in Edmonton and allows the flexibility to takes months off at a time.

In the Maple Leaf Lounge in Toronto, Joanne finally started reading the Fodor's guide to Barcelona. Lee had pointed out that the people are Catalonian, not Castillian, and that they would appreciate it more if you try to speak Catalan. However, from the book, it became clear how deep this identity is. Their national pride goes back centuries. Probably it is even more sensitive with the recent oppression of the Franco regime, which had outlawed Catalan as a language until 1975.

So after spending months trying to learn Castillian Spanish it was time to pick up a bit of Catalan. With 10 minutes to go before boarding our flight to Frankfurt, we franticly hunted down web sites that explain Catalan. We printed 3 lessons for travellers to a PDF file to study on the plane. Once we get to Barcelona will hit the bookstores (llibrerias) to get a phrase book.

Our plane to Frankfurt is a Boeing 777-300. We are sitting in Executive First. We'll get a good night's sleep and when we wake up we will almost be in Frankfurt, just in time to make our connection to Barcelona.
13 September 2009 - Exploring Barcelona Day 1
We landed in Frankfurt in good time, however, we went through a slow line in customs, followed by an astonishingly slow line through security again. Then it was a 15 minute walk to our gate at the other end of the airport. We missed our flight by 5 minutes. Fortunately we were able to get on the next flight leaving 2 hours later, so we got to relax and have a second breakfast in the Lufthansa lounge.

The flight to Barcelona was pleasant. We crossed over the Alps, then flew over the coast somewhere between Marseilles and Montpellier, flew over the Mediterranean for a while, then returned to the coast into Barcelona.

The Barcelona airport was bright, shiny, new and very quiet. People spoke in low tones. It was not the chaos we were expecting, like Rome. How nice to hear the Catalan accent.

Everywhere the signs and descriptions are in Catalan first, Spanish (Castillian) second and occasionally English third.

We got to the hotel on the train then metro without incident (no wrong turns!).

The Hotel Arc La Rambla, is near the foot of a very broad, lively, pedestrian thoroughfare called La Rambla. It has crowds, outdoor cafes (tapas bars), buskers and vendors selling souvenirs, newspapers, and even flowers and seeds.

By the time we checked in it was only 2:30. The next several hours we spent exploring up to Placa de Catalunya and Barri Gotic. We took pictures of pomegranate trees bearing young fruit. We turned back to look for the Cathedral de la Seu (Barcelona Cathedral) and found it in the middle of the old city. The cathedral has its origins from the 13th Century. The buildings in the Barri Gotic are 4, 5, or 6 stories and the lanes are so narrow that there might be room for a small car in some of them but not all. Yet in every lane there is a shop or two (or more). And it all feels quite safe as there are always people walking about. These buildings are incredibly old but people still live in them. It's hard to tell if this is a desirable area or not - it doesn't look like squalor, it just looks old.

In the evening we did the touristy thing and had tapas on La Rambla watching the buskers.

Afterwards we walked around and found the square for the modern art museum (MACBA - Museu d'Art Contemporani de Barcelona) which is a lively skateboard park and hangout place.

We are finding that Barcelona is a fabulous people city. Everything is for the people, graffiti is encouraged (and it's good graffiti, not the ugly stuff). People are artistic, they dress well – quirky, not traditional.

We stopped off at SPAR on the way back to the hotel & picked up a bottle of wine and called it a night.
14 September 2009 - Exploring Barcelona Day 2
We slept so late we almost missed breakfast. It was free at the hotel and went until 11.

Today we took the metro to La Sagrada Familia, Antonio Gaudi's famous cathedral that was started in 1896 and is still under construction.

Gaudi, an architect, had a vision and design that drew entirely from nature. For example, the columns inside look like trees, where the tops of the trunks extend out to look like the natural canopy that trees provide.

Most of the exterior seems to be complete. It is easy to tell which is the old section versus the new because stone ages so quickly in the presence of pollution. The construction did suffer a serious setback during the Spanish Civil Ware when many models were destroyed.

The inside is under construction and you can watch the workers applying/sanding plaster, etc. There is also a very thorough display that explains the principles Gaudi was using. He used nature, but he also used mathematics heavily in the design (hyperbolic parabolas, catenary angles) - but what is mathematics if not nature. The whole ambience feels relaxing because it is natural. Several years from now the cathedral will be finished. We will be interested to return to see the progress and how the design unfolds. In the meantime we will be looking for the parabolas and other mathematical forms in nature with fresh eyes.

We decided to wander away from the tourist area to have lunch at a bar. The proprietor knew no English but with a little Spanish/Catalan we were able to order a decent lunch at a very reasonable price. We had a baguette Catalan (sausage), a baguette with Manchego cheese and a cappuccino that was excellent.

Our next stop was the Hospital del la Santa Creu I Sant Pau which is a working hospital consisting of several pavilions and is considered a UNESCO world heritage site because of its design merit. We also filled our water bottles at the public fountain there. While it's safe to drink from the public fountains, we felt especially safe drinking from the ones at the hospital.

The surprise spot of the day was the bullfight arena. While we went on a whim as it was more or less on our way, we visited the Toro museum and learned about some of the more famous toreadors and the history of the costumes. Bullfighting with the traditional costume has been around since the 1700s. Also on the walls were the stuffed heads of some of the more famous bulls, many missing one or both ears because the toreadors took them as prizes. Sometimes he took both ears and the tail. We noted that the conflict is mentioned in terms of the bull and its "opponent", indicating that the spectators view the bull and the toreador as equals. One famous bull showed such bravery one day that at the request of the spectators the bull was allowed to be spared. He was fixed up and became a sire.

That was one thing that made the conflict appear more civilized than you would expect. Another was the chapel where the toreador would visit before entering the ring. It is small, beautiful, devoutly decorated and only a few yards from where the bulls are stabled.

Finally we saw the stables themselves. In one of the stalls were two bulls munching on some hay, looking up at us with curiosity. It was immensely sad knowing about their fate. Okay, maybe it's not so civilized after all.

In the evening we had a fabulous supper in the old city at 'Trobador' - seafood paella, swordfish with young garlic greens, gazpacho and desserts - chocolate prohibido (the best dessert chocolate ever, Catalonian cream, chocolate pate, chocolate sauce) and Teta (Catalonian cheese) with quince jam.
15 September 2009 - Exploring Barcelona Day 3
The agenda for today took us to the Picasso Museum and several sites in the old La Ribera district. It rain most of the day.

The Picasso Museum covered several periods of his life, starting with his art school years most of which were in the Barcelona area. His paintings were very formal and academic, large oils of important or sentimental subjects. This was followed by a period where he avoided all his training and painted in broad strokes like a child. Then the blue period and rose period were covered briefly. The final section jumped to the 1940s where he did a study of Velasquez's Les Menestes, painting each of the characters and then the whole ensemble in wildly different ways that are all characteristic of the Picasso style we know.

Another instance of painting the same thing over and over was the series he did over a few days from the view of his balcony in Cannes with a dovecote on one side. Each painting is the exact same subject, but treated differently, and each is as interesting as the next.

We then visited the Casa Batllo, an apartment building designed and built by Antonio Gaudi near the beginning of the 20th Century. It looks even more modern than most modern buildings of today, although it is over a hundred years old. The theme is of living under water. There are no square corners. His use of skylights, vents and the courtyards are pure genius. At the top floor are the laundry rooms for each residence in the building. The corridor there is lined with arches which seem like gills. Everything seems pure and fresh because of the excellent ventilation, flowing lines, the blue colours and the ceramic tiles. Every room has superb attention to detail, and attention to air circulation and access to natural light.

On our way back to the hotel we stopped at a bookstore called La Central. It was the most intellectual bookstore we had ever seen. No paperbacks with raised lettering were in sight. In any section was a mix of languages - Catalan, Spanish, French and English so if you looked hard enough you might find the book in the language of your choice. Joanne bought "Catalan Home Cooking" in English. It doesn't look very practical, for example Cannelloni Barcelona Style calls for a lamb's brain, a truffle and a glass of Rancio wine. It may be an indication of what a Mediterranean diet is really all about - and it's not all olive oil and vegetables. Additionally, Lee saw Paul Myers, from Canada's Book TV in the music section (he's the author of a couple of books on Canadian music). This is definitely a serious bookstore for serious bookies like us.

For supper we went back to the 'Trobador', as it was so good last night and there were other dishes we wanted to try. As it was very crowded we got to sit next to the kitchen, which was separated from us by only a piece of glass. Behind Joanne was a huge wheel of parmesan cheese from which the waiters shaved slices for the appetizer bread. To us this was the best seat in the house. We had the padron peppers with salt (a tapa), Lee had the Catalan roast chicken (with a sauce of dried fruits) and Joanne had the sausage with white beans. The litre of sangria was top notch.
16 September 2009 - Exploring Barcelona Day 4
Today we rushed through breakfast as fast as we could. We were going to the Boquiero market, which is about 5 blocks from the hotel. It was huge and a food-lovers treat. Basically the stalls were either -

Fruits & Vegetables - every kind of vegetable, watermelon (the kind with seeds, therefore the best), figs, grapes, pears, plums, some strawberries, …
Meats - whole pigs, goat carcasses, goat heads (and we thought Goat's Head Soup was made up), tripe, tongue, brains, liver, primal cuts of beef, lamb, pork (the vendors cut chops or roasts from these)
Poultry - chickens (with heads/feet and sometimes still some feathers), rabbits, quails, pigeons (unplucked), …
Seafood - live crab, lobsters and shrimp, fish of all kinds and shellfish we've only seen in books, and bags and bags of snails. Seafood is extremely important and makes up a good portion of the "Catalan Home Cooking" book.
Eggs - loose eggs as well as in cartons and flats
Cheeses and sausages
Olives - many kinds
Spices, nuts and dried legumes, including large bags of bay leaves
Breads
Wine stand
Health food stand
Candy, fudge, nougat, nuts, ….

We bought provisions for our lunch today - torpedo buns, Manchego cheese, Catalan cheese, Aragon olives, Sevillano olives, figs, pears, and watermelon. Tomorrow we'll be back for lunch ingredients and we will bring the camera.

The agenda for today was to explore Montjuic which is the mountain at the edge of Barcelona that juts into the sea. We rode in a tram to get to the top and took some beautiful pictures of the city and coast. At the top is Castle Montjuic which currently houses a military museum, but the museum was closed for no apparent reason. In the open courtyard was a display on the event in 1909 that came to be known as Setmana Tragica (Tragic Week). There was also a display on the events in the Spanish Civil War that lead up to the imprisonment and execution of Luis Companys, the president of Catalonia.

We circled around on the path below the castle to admire the Mediterranean plants and have lunch under a fig tree. The sun was warm and breezes were cool and fresh off the sea. We took the tram back to its starting point, half way down the mountain. We were still within the park and just walking distance from the Catalonian National Art Museum. The walk took us through a beautiful park with trees, fountains, and amazingly modern statues outside the Joan Miro Foundation.

The art museum resides in the Palace National, a neo-baroque palace built for the 1929 International Exhibition. It actually looks much older (200+ years older) because of the baroque style. We intended to visit the Gothic, Baroque and Renaissance art but we were delighted to see that there was a temporary exhibition on the war photography of Robert Capa and Gerta Taro. They were famous for their photographs of the Spanish Civil War (e.g., 'The Falling Soldier') and Robert Capa for the World War II and the Chinese Revolution. Their photos were published frequently in Life magazine. The display covered the events as well as personal items such as letters, the original proofs, and captions recorded by the photographers. Gerta Taro's photographs were distinctive given the style of camera she used (square format) and very intimate with human subjects. Tragically, she was killed while riding on the running board of a car while escaping a town that had just fallen to the fascists. She was only 25.

As we spent so many hours at the Capa/Taro exhibit we got only part-way through the Gothic exhibit. It was full of fine specimens from Catalan churches, very well preserved. At 7 p.m. the museum was closing but our ticket allowed us to come back the next day. We didn't make it back so it will be on our list for the next visit to Barcelona. After a coffee outside on the terrace steps we headed back to the hotel.

For dinner we went to Orio in the Barri Gotic. This was less down to earth than Trobador - quite a different restaurant and very modern/artsy, but still all about the food. The customer could get a plate and fill it with many types of tapas on display. We chose the restaurant menu - Lee had the monkfish with mussels and Joanne had the cod. Our appetizer was bonito, but we started with a snack of olives-tiny peppers-anchovies on a skewer. We had this with bread. For dessert Joanne had 'homemade curd' which was goat's milk in a tall pot, something basque. It tasted slightly smokey, the taste of burnt milk but was to be eaten with drizzles of honey from a large jar. On the way back to the hotel we stopped for another bottle of wine and a Catalunya chocolate bar.
17 September 2009 - Exploring Barcelona Day 5
We went back to the market where we took many pictures. Again we visited all of the stalls we had bought from yesterday so that we could build the same sandwiches again. Fruit is so inexpensive - we got a basket of figs, ¼ watermelon, ½ kilo of grapes, 2 plums and 2 pears for less than 3€.

At the spice stall, Joanne bought 5 little rolls that would be the equivalent of bouquet garnis, except they were bay leaves rolled around a bundle of sticks (rosemary ? thyme ?) and tied with string. It looked clever and Joanne thinks she can duplicate them.

Next we visited the Maritime Museum and learned about the design of boats and the history of the Catalonian shipping industry. The building was an old shipyard from the 13th Century. In the building is a replica of a 16th Century galley ship.

The museum also has a good display about boats as vehicles for fishing. It reinforced again that Barcelona and the whole Catalonian area is really a fishing community.

We continued on to the beach. It was cool and occasionally rainy. There were surfers in wet suits in one section but they were not venturing out very far. The beach was miles long. How nice to have a beach so close to the city, but not developed like Waikiki. We walked all the way to the end, at Olimpic Parc. Here there is a metallic fish sculpture by Frank Gehrey, in front of the Hotel Arts.

We stop for coffee and ice cream (hazelnut and Catalan Cream) and then looped back along the city roads, passing the zoo and train stations.

Back at La Rambla, we went to the government bookshop hoping to find some books on the Catalan language. We got a book on Gaudi, one on the conjugation of verbs (Catalonian) and Catalan-Spanish-Italian conversation.

Tonight we attended the evening opening of the modern art museum (Museu d'Art Contemporani de Barcelona). It's a beautiful space, especially at night. It opened our eyes to some new ways of expressing. Lawrence Weiner's "Beached" is a video of himself collecting driftwood with the taglines -

was the video itself art ?
was it art if he was to use the driftwood for art ?
was it art if it was entirely staged ?

Another remarkable exhibit was a collection where the artist had a picture of some historic event and then returned to that spot to photograph it after a period of time. The two pictures were put side-by-side so that you could compare the two contexts.

We had a late supper in the El Raval district, consistinf of Paella de Marisco. It was a little 'hole in the wall' place but with very good food and friendly service.
Provençe
A few of our pictures, via Flickr -->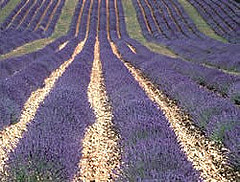 18 September 2009 - Travel Barcelona to Roussillon
We spent almost the whole day traveling. We took a taxi to the Estacion Franca for the train to Montpellier. When the train rolled into France we were excited to see the vineyards everywhere. For a good part of the trip we had water on both sides of us, as we were on a causeway with many pretty coastal views. At Montpellier we never went far into the city as we had no place to check our bags. We sat for a while in a lovely secluded park with a fountain and pigeons, under an olive tree, eating our fruit, olives and cheese left over from the previous day. Then we headed back to the station where we had a decent sandwich. We remembered how much the French like desserts - the 8€ special had your choice of sandwich-drink-dessert.

The train to Avignon was crammed with students until the first stop, then they departed and we got to sit down. At Avignon, we met our taxi. The driver was accompanied by an ambulance driver who was learning from her how to drive a taxi. Their English was about the same as our French, so we had fun conversing the best we could. They were Jocelyn and Jean-Pierre. When we arrived at our destination and said our adieu's, Jean-Pierre expressed his appreciation of our desire to converse as he wanted to learn English better.

Hôtel Les Sables d'Ocre is a modern hotel just outside of Rousillon. The dining and lounging area is brightly and beautifully decorated in orange and yellow. For supper we had the specials - Salade de Bressagnes, Filet de Julienne en Herbes (did not say filet of what) and Mousse au Chocolate. It was amazing - the salad was lettuce & tomatoes with hot cubes of liver, the filet was fresh fish covered in a brown sauce with herbs of lavender and thyme. It was accompanied by potatoes in a nutmeg cream sauce and celery stewed with tomato. The brown sauce was also used on the steak and veal that other customers ordered. The chocolate mousse was served in a tall glass, with a piece of piped meringue on top instead of a squirt of whipped cream.

We were able to sleep very soundly now that we were in the country. We left the door to our balcony open in order to get even more fresh air. It got very cool at night, maybe under 15C, which was fine with us. The silence was appreciated.
19 September 2009 - Circular walk in the Roussillon area
Our walk today was a circular loop starting and ending at our hotel. Breakfast was a change from the full English breakfast we got last year in Wales, only Joanne missed the eggs. Café au lait in large cups, yogurt, cereal, toasted baguettes and fruit juices. The butter was 'French Unsalted'. They do everything right when it comes to food.

On the walk today, we only had a few roads. Mostly we walked through woods, past pines and vineyards. We even walked past a truffle oak orchard. The soil everywhere is red, as this is the place of Ochre hills. We walked back into Roussillon and learned what a hilltop village is all about. The cars are confined to narrow lanes that go around the hill or else make hairpin turns. However, coming off of the lanes are stone steps that take you up to the next street. This is very convenient for walkers.

We stopped at a restaurant for lunch and had their 'gallettes sarazzen' which is a buckwheat crepe covered in a topping - mushroom, garlic and parsley for Lee and ham & eggs for Joanne and all covered with Emmental cheese.

After lunch we visited the Sentier des Ocres (the Ochre hills) which are the source of pigment shipped around the world. The colour ranges from yellow to dark red. It is a stunning sight - the hills sometimes shaped like hoodoos, as it really is sandstone heavily pigmented with iron and other minerals.

As we exited the Sentier des Ocres, we stopped at the fountain and filled our bottles. We are just like our cats -- we would rather drink from an outside source of water than from the taps at the sink.

There was a festival going on in town called Fete Bonnheure (or something like that). It was very crowded with lots of cars and tourists. From the gift shop we bought some samples of pure pigment that Joanne's sister can use to colour anything she wants to paint (that will be her birthday gift, so hopefully she acts surprised if she reads this first).

We then planned to take in the Conservatoire des Ocre which is where the old ochre factory was, just outside town and past our hotel. As we got there the wind was starting to pick up with a bit of drizzle, so we returned to the hotel.

The rest of the afternoon was spent drinking some wine and chatting with the couple in the next room from our balconies. They were also using InnTravel but were cycling and having a lot of difficulty. The level of detail in the walking notes and maps were perfect for us (increments of 50-100-500 metres) but had too much detail for cycling, which needed increments of 200-500-1,000 metres). We had a very good chat and they told us (warned us) about their experiences with one of our upcoming hotels (rude service, fabulous food). We indicated that once we played the naïve Canadian we end up with good service and still get the great food.

For supper again we had the special from the hotel – pissaladiere with greens, Beef Bourguignon, and a tarte of wild blueberries with sorbet.

The two girls at the next table were from Scotland and England. They were doing the same walk as us via InnTravel and would be a day behind us - so we should cross paths several times, at the two night stops our second should be their first. Walking today was 12.6 km, with the hills at the beginning and end -- not a bad way to start.
20 September 2009 - Roussillon to Bonnieux
Today we walked from Roussillon to Bonnieux, and again didn't get lost. We walked past vineyards, cherry orchards, some olive groves and lavender fields. The highlight was Pont Julien - a Roman bridge built in 3 BC that was still in use for cars until 2005. For most of our walk we were in sight of the village of Lacoste which had the ruins of the Castle of the Marquis de Sade prominently perched above it.

To get to Bonnieux, you walk up a lot of hills and stairs. The village is even more quaint than Roussillon. Our hotel, L'Hotel Cesar, is near the top of the hill. It has the best view we have ever seen, including Wales. There was a large terrace off our room with a table and chairs. Again the town of Lacoste, the vineyards and a few of the town's buildings down below. Only slightly higher than us was the old church, that had a bell that rings the hours (fortunately ending at 11pm and not starting until 7am).

The breezes up here are amazing and pleasant. In anticipation of our 8 p.m. supper we bought some ice cream and a bottle of wine (Cote Louberon, really local) to hold us over. We walked around town and as in Roussillon, this weekend was a festival of 'Patrimonie'. The nearest translation we could determine was a celebration of heritage days. The Musee de Boulangerie (bread bakery) was open and well attended, as was the exhibit of the old olive oil press.

From what we saw, it looked like Bonnieux was mainly a 12th Century town, initially based upon what the Romans had started. There were lots of cats as well as a number of dogs we saw running home (for supper after playing all day?).

We had dinner at the hotel's restaurant, as it had an excellent panoramic view. The food was awesome, again. We had Soupe Pistou and Soupe Poisson, followed by poulet au bisque d'escriver (or something similar) & Souris l'Agneau (lamb shanks) with a dessert of goat cheese on greens with a bit of olive oil. The bread was freshly baked and the wine was a flavourful rosé, from the vineyards we had passed earlier in the day (Chateau de Canorgue). So far we have stayed at three places, Barcelona, Roussillon and Bonnieux, and want to live in each one.

When we got back to our room, we noticed that the Marquis de Sade's castle (which is now owned by Pierre Cardin) was lit up for the night.

Walking today was 10.5 km, excluding being a tourist around Bonnieux, with steady but not too steep hills, until we got to Bonnieux.
21 September 2009 - Bonnieux to Buoux
We had our breakfast at the hotel restaurant. It was leaner that yesterday's - simply orange juice, café au lait and a basket of croissants & fresh baked buns that tasted slightly of sourdough. They gave us our picnic lunch and we were on our way to Buoux.

On the trip today, there were no vineyards but we walked by numerous lavender fields and some oak plantations. We saw many shepherds' huts which is essentially a dome made of stones.

We walked up hills and down valleys a few times, passing through Buoux. Once we got to the top of the ridge after Buoux, we passed several almond trees. We picked one and cracked it open with a stone. It was smaller than we are used to but very tender and tasty.

Continuing on, we found ourselves at a steep gorge with sheer cliffs overlooking our hotel, L'Auberge des Seguins. This was breathtaking. We didn't think places like this existed in France. We made our way into the gorge and arrived at out hotel at the bottom.

The hotel was right against the rock. In fact our room, the 'Rocher', is built into the stone, so that one wall is really the cliff itself. It is a rather big room with a private terrace and table and chairs.

Supper was traditional Provençal. We started with crudités, which included anchouite, tapenade, mussels on toast, carrots, radishes, celery, cauliflower, tuna with mayonnaise, lentil salad, stuffed eggs, and roasted peppers on greens. For the main course it was separate dishes of beef and lamb with carrots and olives cooked for hours until very tender, served with barley and broad beans. Dessert was a chocolate pate and a lemon tart. The lemon tart was a huge slice of tart lemon pie and tasted amazing. We washed it down with an excellent, very cold rosé from Cave Bonnieux .

When we stepped out after supper we saw more stars than we had seen in the sky for a very long time, as we were deep in a gorge with no ambient light. Prominent across the sky was the Milky Way. We stumbled back to the room in total darkness, going through the back door as that was the only route we were sure of. Fortunately, we left the laptop running, and with the stark white walls and ceiling, the room was lit up by the little lights from the mouse & Vonage phone.

It was a fabulous day.

Walking today was 12.4 km with some moderate climbs and a long descent at the end.
22 September 2009 - Circular walk of the Buoux area
At the hotel's buvette we had our best breakfast yet. The bread was freshly baked, large loaves made partially with rye flour. We helped ourselves to café au lait (coffee & warm milk). There were pots of jams & honey laid out to take to the tables. We took the yogurt (all plain) and mixed in some honey to sweeten it. Joanne was curious about a brown coloured jam, so the attendant put some in a small pot to sample. It was Chataine, which we later found out was chestnut jam. It tasted somewhat of honey with spices, although it contains no honey. We found out later that all of the jams were made in Corsica.

We stopped at the office to pick up our picnic lunch. The guy there was surprised as he didn't realize we had requested one. He came back a few minutes later with two salads of barley (left over from last night) mixed with tomato, cucumber amnd a little vinaigrette. He also gave us a whole log of chevre (goat cheese) and two apples and told us to help ourselves to the bread at the buvette. That was a substantial lunch and it was interesting that he threw it together so quickly.

Our walk took us across the creek and out of the gorge. When we were half way to Sivergues, four fighter jets came out of no where and flew directly over our heads, maybe 200-300 metres above but they were gone too quickly for us to get a picture.

We walked past a long house built into the rock, and saw a young woman doing yoga on a mat near the edge of the cliff. She greeted us in English with a familiar accent, she was from Sacramento and was staying with friends she'd met in Thailand.

Not long after, we reached Sivergues and refilled our bottles at the public fountain. The road out of Sivergues took us past a farm (La Castellas) where we saw livestock for the first time - goats and pigs. As the farm was actually on a cliff, it seems that the farmer was confident that his animals wouldn't do anything foolish, like going too close to the edge.

After this point it was steady climbing until we got to the reservoir near the top where we stopped for our lunch. We figured out how to use our hiking sticks to create a clothesline to dry our some sweaty cloths & hats while we ate.

After lunch we headed even higher up to the highest part of Mount Louberon (Crete Louberon) and took some pictures of the view spanning 360º. The walk down was pleasant, as it was mostly through shady lanes along the side of the mountain.

When we got near the bottom, we were at the entrance to Fort Buoux. This is an old medieval commune at the top of a cliff, with inhabitants dating back to the Neanderthals of 50,000 years ago. It was inhabited by people such as persecuted Protestants as late as the 1800's. We were allowed to wander all over, but it was clear that if you got too close to the edge they were not liable for you. In other words, there were no railings like we have in Canada -- if you we foolish enough to fall over it was your fault, not theirs.

An elderly lady (French) asked us if we were Canadian. She seemed very pleased that she was able to recognize our accent. She must have had some tie to Canada, because when Joanne offered to take her and her husband's picture while they sat on top of a wall (a wall so high that Lee & Joanne wouldn't climb it) she remarked something like it would be a souvenir from a Canadienne.

To descend from Fort Buoux we took the 'secret staircase', which was a very long series of steps carved into the stone along the rock wall. It was not recommended for "elderly people or pregnant women" as there was no handrail and it could be disastrous if you lost your balance.

The walk back to L'Auberge des Seguins took us under a huge rock formation that extended out over us. It was carved smooth from centuries of water. Probably you would not see anything like it in the Rockies as they are much younger mountains. The Luberon mountains are older and have smoother edges.

Dinner was another treat of simple Provençal cooking. Our waitress spoke very little English, so she basically explained what we would be eating without giving us choices, to avoid questions from us. She drew a head of quinoa grain to explain quinoa. We had veal cooked in olives and carrots (for hours) and endive topped with cheese simmered in oil or stock. The first course was a tarte of goat cheese, red peppers, and ham in puff pastry. The dessert was some sort of crumble with dried currants, kiwi, and a sauce of persimmon. It was very unusual, a mix of sweet-sour-smooth-crunchy.

Joanne investigated the collection of reading material around the hotel. There was an ancient (1877) book on geography and characteristics of people from around the world. Unfortunately, this book, as well as many other old treasures like it, suffered heavy deterioration from mold, mildew and squashed bugs. Other books of interest were a translation of Huckleberry Finn into German (with the old style heavy script that is hard to read), a book on the French Resistance in Provençe during WWII, and a book in Catalan written in 1977, on political ideas and comments (we think).

It was another tremendous day and our last in the valley.

Walking today was 12.1 km, with a very tough 4.8 km start getting to the top but fairly easy for the rest.
23 September 2009 - Buoux to Saignon
This was an easy day of walking. We left the hotel with a block of goat cheese they'd kept in the fridge from the day before and filled our bag with bread from the buvette.

In the morning we walked through the 'Ravine en Fer' (Ravine of Hell), but we couldn't figure out how it got that name, since it seemed perfectly fine for us. We climbed up to Sivergues, on a much easier path than yesterday, and refilled our bottles from the excellent water from the outdoor fountain. We descended again into the ravine and came out the other side to a lovely picnic spot. A few more ups and downs and we saw the town of Apt ahead of us. It was huge an sprawling, compared to the little villages we were now used to. Of course we were going nowhere near Apt.

On the road we saw a snake which had been run over by a car. This was a long, thick snake and we were quite shocked as we didn't realize France had snakes. Lee thought it might just be an oversized garden snake, which are quite harmless.

Going around a hill we had another 'omigod!' moment when we saw Saignon ahead of us on its hill across the valley. Part of the town was a rock outcrop, on which there were numerous old buildings and the rest of the town spilled off onto the side of the hill. We approached this town and again saw ancient buildings, lots of steps, turns and little alleys. After a few turns we found ourselves in the plaza with a huge fountain. Our hotel, Auberge du Presbytere, was right there. Our hostess greeted us very warmly, She spoke excellent English and American jazz was playing in the background (Ella Fitzgerald). She called on an older boy to help us with our bags and direct us to our room, the 'Raisin'. It was up to the 2nd floor then over and back down to the 1st . Our room was right above the fountain. We opened the windows wide and could hear the fountain and outdoor restaurant below.

After getting refreshed we wandered up to the rock cliff that we saw from the road and took pictures of the views. We went down again in search of something to eat since our dinner at the hotel would not be until 8. The two places where we could just get a sandwich and a drink were already closed (one was only open until 11am, the other closed on Wednesdays). Since we were eating at the hotel that evening we wanted to try another spot. The little souvenir shop across from our hotel was offering snacks like Saignon fromage and salad, so we had that along with a ½ litre of rosé wine. Joanne also bought some Marseilles soap in that shop. We explored the town some more, avoiding the higher parts because of the wine, and then found ourselves unable to get back to the hotel because of the labyrinth of twists and turns (not because of the wine). Eventually, we retraced our steps and made it back.

A large group of Americans on a bicycle trip had arrived and were staying at our hotel. Compared to Europeans and us, who all speak in low tones when in public, they were extremely loud.

We had dinner in the hotel restaurant. The meal was all about presentation, textures and unique flavours - a huge contrast from the family style of l'Auberge de Seguin. The entrees were excellent, Joanne had the legume confit (eggplant, tomatoes, zucchini, garlic - ice cold) with a pastry stick dipped in fleur de sel. Lee had Noix de St Jacques (marinated scallops with a slice of grapefruit server in a cup). Next was a main course of lamb (Joanne) and pork (Lee). Prior to the entrée was an appetizer (a small glass of something green & liquid, it had a slight smokey flavour & we couldn't figure it out). For dessert it was chocolate mousse with coconut granite (Joanne) and pistachio pudding with vanilla ice cream flavoured with bourbon. We had another excellent rosé wine, recommended by our waiter. It was a little strong (14% alcohol) but very nicely fruity. Joanne's favourite so far has been the Canourque while Lee's was the house wine at l'Auberge de Seguin (served in a carafe, but it came from a cardboard box).

Today's walk was a very pleasant 10.2 km, but tomorrows will be challenging.
24 September 2009 - Saignon to St Martin de Castillon
Breakfast at the hotel was a bit disorganized, as we came downstairs and the American cyclists were already there, loud and annoying as ever, and there were few coffee cups. The treat however, was having warm hardboiled eggs. We were graciously handed our picnic lunch - sandwiches, grapes, dried apricots and dates, and more eggs. All of the staff here spoke very good English.

It was somewhat tricky getting out of town. Up to this point the 7-day and 10-day version of the walk covered the same route and the notes had been flawless (we rarely looked at the map). Now we were on the 10-day only part and the notes appeared to be somewhat out of date. We now needed to refer to a combination of the notes, map, GPS, and compass. We quickly got to the starting marker, just down the street from the hotel - the notes suggested forking right along the D-48 out of town while the signpost/waymarkers showed left and the map showed that the D-48 should wrap around town and link up with the waymarkers. As we stood at the crossroads with puzzlement, we looked down and were surprised to see a large brown dog laying at our feet and another smaller dog behind us. The dogs were certainly friendly and didn't appear to be expecting anything from us.

We decided to proceed following the waymarkers and hit the D-48 within 2 minutes, whereas the notes would have had us at the spot in 10. It was fairly straight forward from that point on. We walked to a little village called Auribeau. It was an amazing little village, it looked very old (14th or 15th century), yet people still live there. In the centre was a public fountain, just like every other little village in Provençe. Everything was quaint and clean and you didn't see garbage. Maybe it was because of the experience of the plague or more likely because there are no fast food outlets or convenience stores (which by default create garbage). One thing we know for sure, you wouldn't discover this place if you were driving or even cycling. The route through here is for locals and hikers.

We continued on up to get to Mourre Negre, which was at 1,118m, 520m above Auribeau. It was tough slogging up a narrow, rocky tract, especially when we walked through a bunch of flies and they hung around us most of the way to the top. At the plateau, there was a modern berger (shepherd's house) which was interesting as we never saw any sheep. The path circled around the mountain a bit to get the top, on which there is a large, modern telecommunications tower. These things are always controversial, to some they spoil the view, which they do somewhat from a distance. However, up close it is a thing of technological beauty.

We were surprised to see a number of other hikers at the top, We saw at least 20 others pass by as we sat and had our lunch. This included a man on a horse and a couple of mountain bikers.

Our climb down the hill was pleasant at first, as we went though a leafy forest, not too dense but nicely shaded. Then we ranged through to the side of the mountain which was scrubby, very rocky and exposed to the hot sun.

At the bottom was another village called Castellet. We were prevented from staying on our trail, at it was under construction at the side of a house as we approached town. We scrambled up some cliffs and terraced garden in order to find a detour. On our detour we passed a party of locals strapping up their donkeys with packs. Whenever we get taken off our track we manage to see something unexpected and interesting. Because we were deviated from our track, we didn't connect properly in town. However, with the GPS we were able to figure out the road out of town that intersected with the path.

Eventually we found ourselves walking along a vineyard, where they had been harvesting that day. There were flat wooden boxes filled with grapes all stacked up. A man operating a fork lift was driving up and down the highway transporting them to the winery down the road. The grape vines were 1.7-2m high (much higher than we'd seen previously), the grapes were as big as boulders (as in marbles) and the clumps were abundant on each vine.

From there, we wandered along a river bed (as directed in the notes) but soon realized that a bike path was just above us (a new tarmac path replacing the old rail line). We were soon at the Hotel Lou Caleu, just outside of St Martin de Castillon.

The hotel was a converted stone farmhouse, although we thought our room was in a new building. Everything was stone and concrete and it was beautiful. Charmingly rustic and fresh at the same time. Next to the hotel was a fenced off area with two horses and two goats. Wherever the horses went the goats followed. The goats really liked to be led, especially by a bigger animal.

For supper, there were a few items on the menu that were not obvious, so we decided to have those. One was quail and the other was fish. They were superb, the vegetable included a baked tomato and dessert was a molten chocolate cake.

It was a tough day, at 17.1 km with a long steep climb, but well worth it. We were glad we did the climb to Mourre Negre, as there were two alternate routes of shorter distances with no climb.
25 September 2009 - St Martin de Castillon to Reillanne
This morning a taxi was supposed to pick us up at 9:30am. When he didn't show up we called and left an English/broken French message and then had the hotel call for us. It turned out he thought the pickup was for the 29th not the 25th. It was 11 a.m. when the taxi showed up to take us to Céreste and take our bags on to Reillanne.

We were dropped off at the town centre in Céreste by 11:30. Céreste is a very pretty town, full of friendly people who are very cordial and welcoming to tourists. We went to the tourist office and bought a book on Provençal cuisine written in English. In all of the confusion that morning, we had forgotten to get a picnic lunch (pique-nique) from the hotel, so we stopped in the local food store for olives, cheese, grapes and plums for lunch, and a bottle of wine for the evening, and then the boulangerie for a country style bread. Then we headed out to the trail.

Just outside Céreste we discovered a walnut tree. We picked a walnut just to try -- it was small but very fresh tasting and rich with oil. Eventually we got up to the ridge that was to be most of our path for the next 4 km. We saw a jack-rabbit (hare ?) on the path, which was a delight as it was the only wildlife we had seen on the entire walk, except for a few birds and lizards (and the road-killed snake). We descended into the valley and walked up to the Auberge de Reillanne, which was a converted manor house. The owner, Monique Balmand, is a well traveled person who spent a lot of time in Nepal. The house and grounds are tastefully decorated, featuring artifacts and her beautiful photographs of the people of Nepal. The grounds had some modern sculptures, several fruit trees and two hammocks hung between chestnut trees. The hammocks were mildly exciting--occasionally we would hear a rustling from above, then a chestnut would fall, nearly hitting us as we lay relaxing.

We could smell dinner being prepared so we knew it would be fabulous. The first course was grilled eggplant slices with goat cheese. Then we had lamb with couscous, a white squash and tomato. This was followed by an assortment of cheeses and a fabulous large slice of chocolate pear tarte. For a change, we had a white wine from the Luberon region and finished with an expresso.

It was a relatively easy walking day. The climbs were minimal compared to yesterday and the total distance was 12.5 km. And the simple lunch was a pleasant change from the gastronomical experiences of the past few days.
26 September 2009 - Reillanne to Forcalquier
The idea of walking on a Saturday was good because this meant many of the local markets would be open. However, this was also our longest day, so we wouldn't have any time to linger and shop. Our route through Reillanne started around the really old part of town but the rest of the walk through town was in a new part that appeared to be still under development.

We had a bit of trouble with the direction and map. As on Thursday, a few key areas had changed from the notes and we were not always sure where we were going, even on the marked trails. In several spots we doubled back to check that we hadn't missed a path or a turn. On two occasions we had, and one other we likely had but made our own way by re-routing.

Once we got down in the ravine it felt very much like walking in the foothills of the Rocky Mountains at home. The air was very fresh, it was very rural and there were many pine and spruce trees. The only difference was that there were oak trees everywhere.

The road dwindled and seemed to turn into a farm. The farmer came up expecting we were lost ("Perdu?" he called out), but first he had to yell at his dogs to shut up. It was quite funny because the dogs didn't heed right away and he had to keep yelling at them in French (which was amusing because it wasn't a few short words, it was more like a speech). When we showed him on the map where we were going (Le Moulin Bas) he pointed to a dirt track at the edge of the field that extended discretely from the road we had been on. Eventually the track became a path and took us past some sour cherry trees (which we sampled, of course). The variety of wild foods in this region is remarkable.

Again the road dwindled and we seemed to be in another farm yard again. Rather than being forced to talk to another farmer and looking lost, we backtracked and found a way to the main road by crossing a creek and then the farmer's field, which fortunately had already been mowed so there was nothing to trample.

On we went to St. Michel Observatoire. We ignored the notes for a while because we saw three observatories ahead and assumed that was our destination. After a lengthy walk along the ridge we checked the notes again and discovered we were heading to the Haute-Provençe Observatories. Our destination was a village that had appended "Observatoire" to its name because it is in the region. So we backtracked again.

St. Michel Observatoire is another old but active village, with a large square in the centre. We stopped for an ice-cream and could have easily spent the rest of the afternoon flipping through the area real estate guide if we still didn't have a few more hours to go (and a few more navigation errors to make).

. At the top of the hill just outside of town we passed an old chapel that looked very ancient, as it was basically a block with a few windows. Next to it was a post indicating that this was a historic spot which had been used for parachute drops for the French Resistance during the war. It was effective spot because the chapel was easily visible from above. (Days later when we viewed the 'Charles de Gaulle' screening at the Military Museum in Paris we found out how significant Provençe was for the French military in the post D-Day period.)

We missed another critical turn, but from the GPS reading we decided it was easier to continue via the main road into Manes rather than try to backtrack again. So now, instead of walking along fields and through trails we were passing the modern estates of apparently upper middle class families, among which was located a large equestrian centre. So, not everybody in rural Provençe lives in an old stone farmhouse.

As we entered Manes, we reconnected with the trail at the large, modern centre carrying products and crafts from the region. Looking for special things that wouldn't add too much weight to our packs, we bought a box of grain similar to wheat, which we thought we had eaten at L'Auberge des Seguins on the first night there. We also picked up a small bottle of lavender essence distilled locally, and a bag of juniper shavings which could be stuffed into sachets and used to scent a drawer. Pretty exotic stuff for a North American and not the usual post cards and candy.

Our next task was to get through Manes and find our hotel on the outskirts of Forcalquier. This was no easy task due to our inability to make sense of the notes, for example "turn at the chicane" and "the hotel is at the 529m elevation marker on the map". We didn't know what a chicane was but on the map we found a 529m mark just outside of Forcalquier. So we made our way to that spot, as it was also on the way-marked path. We ended up walking all the way into Forcalquier, overshooting the Hôtel La Bastide Saint Georges by 2 km, which added to an already long walk. However, we did get to walk by what we thought was a group of gypsy caravans along the way and we got an excellent view of the Notre Dame chapel high above the town of Forcalquier.

By the time we got to the hotel were dead tired, as we had walked 26.3 km, 6 km or more of which was due to missing turns, markers, etc. A dip in the hotel's pool and then the hot tub and we were quickly rejuvenated for dinner.

The Hôtel La Bastide Saint Georges is a sprawling resort with elegant 'cabins' surrounding a main building, and a restaurant, pool and spa. The buildings are classic stucco in the ochre colours of Provençe. The lawns are well maintained and populated with grey-leafed olive trees. Our room, the 'Marie', was large and decorated very 'French'. It had a terrace with a table and chairs, and from this we could walk directly across the lawn to both the pool (maintained at 28°C) and lounge. We were delighted to be spending two nights here, especially at the end of the walk. It was very luxurious.

We ate supper at the hotel's restaurant, which is actually independent of the hotel but on the grounds. Some great dishes were on the menu and Joanne was thankful that she had read in the Provençe cookbook that 'pieds et paquets' should not be ordered unless you actually like tripe. This was a restaurant that took a lot of pride in the chef's talents. Everything we had was exquisite and presented with care.
27 September 2009 - Circular walk of the Forcalquier area
We had a number of options today from the Inntravel itinerary and we chose to walk into Forcalquier and explore. Forcalquier is a major town in this area, and it has some very old buildings that go back to the Roman presence. Like all the other towns we visited, it has a chapel, the Notre Dame, on the very top of the hill, surrounded below by the medieval housing and narrow streets. The chapel (actually a citadel) is topped by a dome and from miles around it is unmistakable. The chapel is special because of its links with music. Around the cupola are statues of angels playing various instruments, one of which looked like an oboe or saxophone, although it must be an ancient version. Outside the chapel is a carillon that played tunes for 30 minutes, possibly because it was Sunday. Also on the hill was a commemoration of St. Louis, who was one of the earliest kings of France and a son of Forcalquier.

We spent the afternoon walking around town. Forcalquier is very well appointed and accommodating to tourists. The shops are friendly and you can buy a lot of local products (especially high end), as well as arts and crafts.

Back at the Hôtel La Bastide Saint Georges, we lingered at the pool for the rest of the afternoon. After another great dinner we packed, as we had an early morning pickup for Paris.

Today's final walk was a very leisurely 6.0 km.
Paris
A few of our pictures, via Flickr -->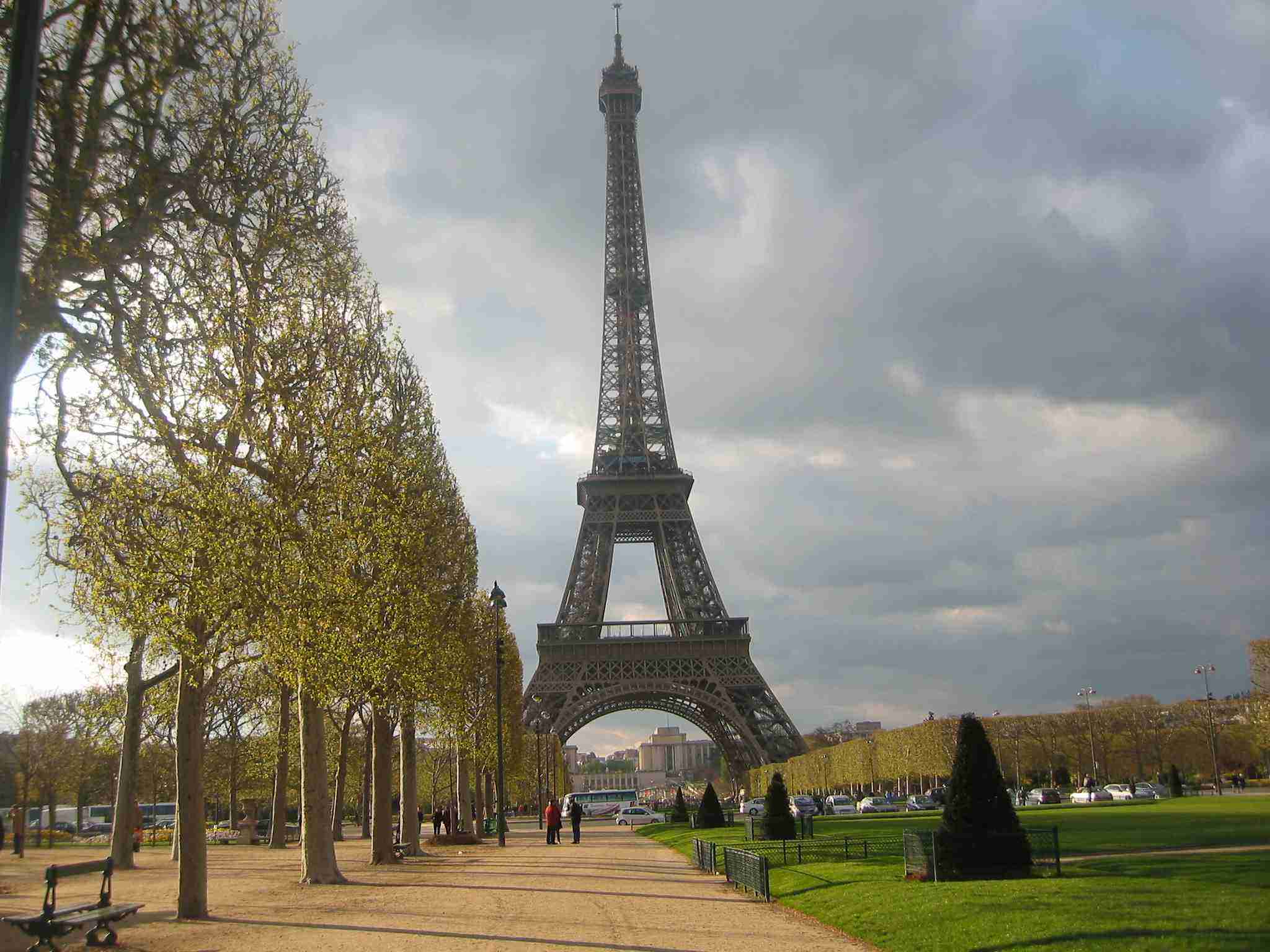 28 September 2009 - Travel to Paris & Exploring Paris Day 1
To prevent the miscommunication we had on Friday with the taxi, we had our hotel call to confirm our 7:30 a.m. pickup. The driver said we would have lots of time so he would be there at 7:40. The hotel's breakfast staff arrived at 7:30, in time to provide us with a café au lait before we left. The taxi driver spoke very little English, but understood it somewhat. It should have taken just over an hour to get to the Avignon TGV station, but along the way we were rerouted (a 'deviation') through a large town and got completely bogged down in traffic. At least it was a pretty town, for example we drove past a stone water wheel that was still operating and covered in a thick layer of moss. However, it was already 9:05 when we got out of town and there were still plenty of kilometers to the train station for our 9:31 train. The taxi driver did all he could to make sure we would get there in time, including running two red lights and driving down the middle of a two lane road in order to pop into whichever becomes the faster moving lane. At no time did he cut anybody off, nor did we fear for our lives. He got us to the station with 5 minutes to spare and seemed surprised and delighted to get a tip. While it may have been poor judgment to delay our pickup until 7:40, the deviation was unexpected and he was a skillful driver.

We raced to the platform and were at our boarding zone at 9:28 when we heard an announcement that due to traffic conditions the train had been delayed by 20 minutes. It was nice to have a little breathing room to wind down from the drive and dash to the platform.

The train was a high-speed and non-stop. When we were half-way to Paris we noticed that the atmosphere had gone from clear to hazy. Hopefully it was the weather and not pollution. After 2¾ hours we arrived in Paris at Gare de Lyon, picked up our Navigo metro cards and headed for our hotel.

Our hotel, the Radisson SAS Hotel Champs Elysees, is on Avenue Marceau, one of the streets radiating directly from l'Arc de Triomphe. The building had once been the head office for Louis Vuitton. It was very modern--the room had a big screen TV, large bathroom, minibar, and even a balcony where you could get a clear view of the Arc in one direction and the top of the Eiffel Tower in the other. It was a little after 2 p.m. when we were ready to hit the streets of Paris. We would start our four day Paris Museum pass tomorrow, so decided to visit the culinary supply shops in the Marais district, "where the chefs shop" according to the Fodor's guide.

This is what has changed in the Marais district from our last visit in 2006 -

the renovation of La Tour St Jacques, near the Hotel de Ville, which was one of the few remaining structures in that district after the destruction during the Revolution
the opening of the BHV (Bazar de Hotel de Ville) department store, which had a substantial houseware and hardware section, and street life in the Marais that was more lively than we had remembered

Now we were officially on the final segment of our vacation, visiting new places and old favorites on the metro rather than long distance walks.
29 September 2009 - Exploring Paris Day 2
The Paris street-wear hasn't changed--everyone dresses in black and grey and they all wear scarves. Definitely, fall was in the air, so Joanne put away the white Tilley sunhat, skirt, and capris, and wore jeans from here on. Now the tourists were really standing out, as they continued to dress in shorts, sneakers, and short-sleeved shirts and loaded themselves with camera gear, backpacks and maps in hand. And they dressed in colours, not the black and grey style of Parisians.

Our highlights today were -

Musee d'Orsay - not much had changed since the last visit
Musee Rodin - we were able to get a better understanding of how sculpture is done
the Eiffel Tower area - there were more than a few armed guards in green camouflage, something we had not seen before.

Walking from the tower, we left Palais Chaillot in the wrong direction (not unusual for us) and ended up deep in the Passey area before we realized we weren't anywhere near our hotel. Fortunately, Passey is gorgeous and upper class but we likely would have realized our error sooner in a worse neighbourhood. We didn't get back to the hotel until around 11 p.m.
30 September 2009 - Exploring Paris Day 3
The highlights today were the Cluny Museum followed by the bell-tower at the Notre Dame.

The Cluny Museum (Musee de Moyenne Ages) has improved enormously since 2005. They have reorganized the space and added English, Spanish, and German translation. Again we paid our respects to "The Lady and the Unicorn" tapestries, and learned a little bit more about the symbolism.

Overheard from a group of American tourists while in the line to go up the Notre Dame Bell Tower:

"What's Gallerie Lafayette ? Is it a mall ? … So it's a big mall."
"How do you get to the cemetery ?" … "You say I should take the metro ? I can just do down and ask the driver which stop, right?"
"You should see Robert in his beret !"

In the afternoon we visited Luxembourg Gardens, St. Sulpice and St. German-de-Pres. St. German-de-Pres was originally an abbey run by monks prior to the expansion of Paris outside of the Ile de Cite. Walking around inside the huge stone structure, which was dark, silent, and lit only through the stained glass windows, we thought about Tintern Abbey and Valle Crucis in Wales, which would have looked very much like this before they were left in ruin when Henry VIII abolished the abbeys.

In the evening we went up the Arc de Triomphe to take pictures of the city at night.
1 October 2009 - Exploring Paris Day 4
Today we visited the Musee Carnavalet to learn about the history of Paris. There is a lot to see. We were particularly interested in the French Revolution, because it had such a big impact on Paris. But the museum covered all the periods of Paris life.

In the evening we went to the Pompidou Centre to see modern art, which was organized by movement. We were fortunate to see the exhibit on Women in Art. It was thought-provoking, often humorous and sometimes shocking.
2 October 2009 - Exploring Paris Day 5
We started with a visit to Hotel des Invalides and Napoleon's Tomb. We made a point of seeing Foch's Tomb because it is so visually powerful …

The Military Museum was our real goal for the day. In 2008, a new section on Charles de Gaulle was opened by Nicolas Sarkoszy. It was very comprehensive and the video technology allowed us to enjoy and learn a lot in a short timeframe. We never did quite understand the problem with Algeria though, as that part was not translated. Nevertheless, we now understand why de Gaulle was a great hero to the people of France, and the nature of France's relations with the rest of the world up to the 1960s.

We spent so much time in the Charles de Gaulle exhibit, we had only 45 minutes for the rest of France's military history. We went straight to the top floor starting at 1870 (Crimean War) and had to rush to get as far as 1914. This is at the top of our list for our next trip to Paris.

Like the Cluny Museum, it was obvious that a lot of recent funding was put into improving these institutions. These are now world class museums that provide insight into French life and history, as opposed to collections of items in wall cabinets.

In the evening we decided to take advantage of the remaining hours to go shopping at Gallerie Lafayette, thus kicking off the shopping mission of our trip to Paris.
3 October 2009 - Exploring Paris Day 6
Joanne wanted to start the day by heading back to the Military Museum before shopping, but Lee was not convinced that we could do justice to both. So we spent the day shopping. We found some great clothes at Gallerie Lafayette, and then we went to the Left Bank to visit the food market at Bon Marche. This market was much better than the one at Gallerie Lafayette, as it was more where people really shop, not so high-end.

We bought Verjus (the juice of wine grapes, used as a condiment or as an ingredient in cooking and keeps in the fridge for two years), chataigne (chestnut jam), a container of herbes de Provençe en sel and four bottles of wine from the south of France (including a bottle from Corsica, recommended by a guy in the store who was passionate about wine and appeared to know what he was talking about).

For our final evening in Paris, we took in the Nuit Blanche - a group of art installations and exhibits by modern artists scattered in three areas across Paris. We went to the St. Eustache Church, in the Marais, to see a video called "Threshold to the Kingdom" by Mark Wallinger. In the video, we watched the International Arrivals door at an airport as it opens and closes, letting the people into the lounge (in slow motion) as Gregorian Chant music is played. The effect is like watching people arrive into Paradise, in dribs and drabs. We had hoped to visit other installations, some by Canadian artists, but it was already after 10 p.m. and we still had to pack. So we ate at 'Le Petit Bistro', near the church, and called it a night.
4 October 2009 - Travel Paris to Edmonton
We woke up early, walked over to the Air France shuttle bus at the Arc de Triomphe (Avenue Carnot). This was a little more expensive than metro/train combination but much more convenient since we were already nearby and it was only 30 minutes to the airport.

We were already missing Paris, as the bus drove by a boulangerie that was already open on this cool dark morning.

At the airport, it was a quick check in, breakfast at the Maple Leaf Lounge and then our flights home.

Emily met us at the airport in Edmonton and we drove home.
Joanne & Lee
Updated 29 October 2009
For more information e-mail us at : joanneandlee@shaw.ca